When you're reaching for a snack, you want something delicious, filling, and energizing. Often, store-bought snacks are processed foods that don't contain the nutrition you need. Preparing snacks ahead of time can help you have grab-and-go snacks that are tasty and satisfying.
If you're looking for ideas for what snacks to reach for, take a look at these healthy snacks for seniors. Once you know what kind of snacks you'd enjoy having on a regular basis, you can get inspired to try new healthy snack ideas and get creative in the kitchen.
Smoothies
Smoothies are a delicious snack you can tailor to your tastes while adding ingredients that pack a lot of protein. A possible combination can include:
Frozen berries
Spinach
One banana
Protein powder
Add some water and ice cubes to the blender and you can have a frozen treat that has a large amount of vitamins and minerals. The best part about a fruit smoothie is that you'll taste the sweetness of the berries and banana over the spinach, but the added leafy greens provide additional nutrition and are good for digestion.
Older adults following a soft food diet can drink smoothies to get a lot of essential nutrients.
Fresh Vegetables and Hummus
Hummus is a delicious dip made of mainly chickpeas with added lemon juice, tahini, and garlic. As one of the healthier dips to eat, hummus will not cause your blood sugar levels to spike compared with other types of dips.
Hummus pairs well with fresh-chopped vegetables. Having bell pepper strips, celery, or carrots ready to eat with a bowl of hummus is a filling and tasty snack.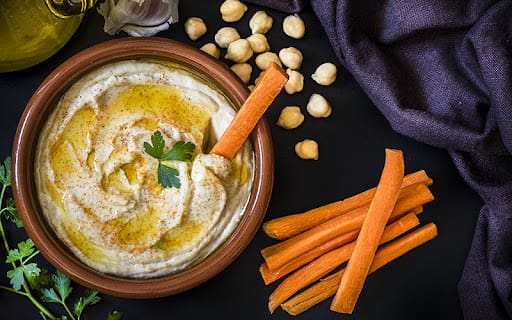 Greek Yogurt or Cottage Cheese and Fresh Fruit
Plain Greek yogurt is a great source of probiotics, which keep your gut healthy and help you digest food. If Greek yogurt isn't quite to your taste, perhaps you prefer cottage cheese, which contains a lot of calcium that can benefit bone density.
You can add fresh fruit on top of your yogurt or cottage cheese to add both nutrition and a natural sweet flavor. While berries are always a great option, you can also chop up stone fruit like peaches, plums, and nectarines.
Oatmeal With Berries
Sometimes, you may want a different option from boiled eggs for breakfast.
Having steel cut oatmeal topped with fresh berries is a delicious way to begin your morning. Steel cut oats contain water-soluble fiber that helps you feel full and is beneficial to your blood sugar and cholesterol levels.
Making oatmeal to your taste is similar to smoothies – you can mix in a number of ingredients to change the taste and add nutrition. You can mix in natural peanut butter or another nut butter for added protein and flavor. Chia seeds are another great add-in because they have a high amount of omega-3 fatty acids, which help with brain health.
Homemade Trail Mix
Nuts and seeds provide healthy fats and protein, which makes them nutrient-rich and satisfying. However, when you're eating nuts and seeds from packaged trail mixes, you're likely eating salted nuts, which aren't as healthy for you.
The dried fruit in a package of trail mix is also likely high in sugar that can be detrimental to your health. This is why creating your own trail mix puts you in charge of nutrition and taste.
Opting for nuts and seeds like almonds, walnuts, pecans, pumpkin seeds, and sunflower seeds will provide a good, crunchy base that's full of nutrition. If you're going to add dried fruit, opt for dried dates. They are a good source of calcium, iron, magnesium, and potassium.
If you're making homemade trail mix, you may also want to add a touch of chocolate. While everyone usually loves the M&M's that come in packaged trail mix, consuming a lot of M&M's isn't the best option when you're focusing on healthy snacks.
Chop up dark chocolate for your trail mix to avoid added sugar from M&M's and get the health benefits like helping to lower blood pressure and increase blood flow to the brain.
Apples and Cinnamon
When you're craving something sweet, sautéed apples with cinnamon tastes just like eating apple pie filling, without the added sugar and carbs from the syrup and crust. This recipe from Beauty Bites is easy to prepare:
After peeling and coring your apple, chop the apple into small pieces. While you can use any apple you like, tart or sweeter apples that contain a lot of flavor include Granny Smith, Pink Lady, or Gala apples.
Sauté the apples in a pan with 2 teaspoons of coconut oil and a tablespoon of water over medium heat. Allow apples to soften.
Sprinkle cinnamon, nutmeg, and add a touch of vanilla for added flavor. Nutmeg and vanilla are optional but are delicious additions.
Cover the mixture for about three minutes, stirring occasionally. Apples will turn golden brown.
After the apples are soft and golden brown, they're ready to serve. Enjoy!
Eat Well at Canterbury Woods Gates Circle
A nutritious diet is an essential part of your retirement, but it's also important to enjoy what you're eating. Nutrition and taste aren't mutually exclusive – and nothing is better than loving what you eat and feeling energized and ready to take on all the fun activities the day has to offer.
At Canterbury Woods Gates Circle, we're focused on health and happiness for all our residents. Having nutritious meals and snacks from our premier dining options gives our residents delicious choices, from casual dining to formal sit-down meals. Come for a tour and enjoy a delicious lunch on us.