Continuing Care Retirement Communities (CCRCs) have become the hot new thing in the senior living space. However, as Boomer movers-and-shakers start shaking up their golden years, the CCRC term doesn't quite accurately reflect what today's seniors want – and what they need. These days, communities are rebranding themselves as Life Care Communities to accurately reflect today's older adults' active, energetic lifestyle – but what is Life Care?
Lynda Marino, Marketing Director at Canterbury Woods Gates Circle, a continuing care retirement community in Buffalo, NY, answers that it's more than a name change. "It's a philosophy that's making the idea of senior living communities more welcoming and accessible for younger seniors while ensuring that older adults have peace of mind, knowing they will always have the continuing care services they need," she says.
What Is Life Care?
A Life Care Community is a special type of senior living community that offers care and a home for residents throughout the aging process, no matter how their needs may change.
It's an excellent option for active, independent, and healthy seniors who want to enjoy their retirement without worrying about moving if or when their health needs change.
What Are the Health Services of Life Care?
Life Care typically offers four types of care and living options for residents.
Independent Living
This popular senior living option allows residents all the privacy and benefits of their home, with all the perks of living in an all-inclusive resort. Individuals live in their own standalone, on-campus homes with access to everything the community has to offer.
It's a maintenance-free and worry-free lifestyle, meaning that residents never have to worry about upkeep, cleaning, or landscaping again. You don't even have to cook if you don't want to. Independent living makes your time yours, allowing endless options to explore, enjoy and embrace the retirement lifestyle.
Assisted Living
If you need just a little extra help to live safely and independently, assisted living is a great option.
Residents enjoy the privacy of their own apartment home, plus the security of a caring staff available 24/7 to assist with the tasks of daily life. Just like with independent living, the lifestyle is maintenance-free and chock-full of all the services and amenities you need to live safely and happily.
Memory Care
When an individual is diagnosed with dementia, they and their family want to be sure they're in a safe, caring environment surrounded by skilled professionals who understand their needs.
Memory care can provide your loved one with that secure neighborhood staffed around the clock by professionally trained staff dedicated to providing a joyful life and caring support for those with cognitive diseases.
In a Life Care Community, they help you and your loved one in the place they already know as their home – helping to avoid the trauma of moving to a new community.
Skilled Nursing and Rehabilitation
If you need a higher level of care than assisted living provides, or you need to recover from an accident, surgery, or other event, then you may need skilled nursing or rehabilitation.
Skilled nursing is long term care where you have compassionate and highly trained staff caring for you around the clock.
Rehabilitation can help you regain balance, build strength, reduce pain, and feel more confident in your abilities to go throughout your day. While some rehabilitation treatments may be short-term, they can also be continuous to help you maintain your health and quality of life.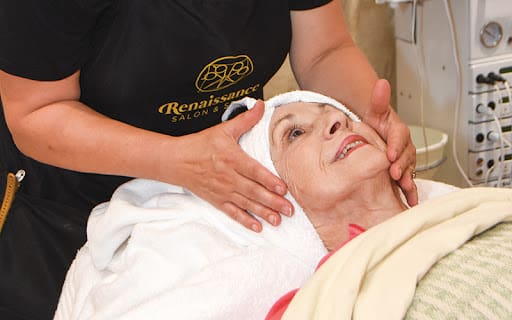 What Are the Amenities of a Life Care Community?
Lynda reminds seniors that there's a lot more to Life Care than simple healthcare. "Living in a Life Care Community means a lifestyle of greater choices, all of which are fantastic options," she says.
The robust services and amenities have something for everyone. This includes a beautiful dining area with delicious meals, a full calendar of fun activities and events each day, wellness and fitness opportunities, a cultural arts studio, outings to the greater surrounding area of the community, and more.
Why Choose Life Care?
Healthy and active seniors may not think that senior living is for them – especially a Life Care Community that's "forever." However, this is the demographic that should be moving to a community as soon as possible, says Lynda.
"The best time to move to a Life Care Community is before you actually need care," she says. "Independent living can be incredibly rewarding after so many years of caring for your family and a career. You have complete independence, yet everything you need to live a carefree lifestyle. It also allows you to make this place your true home so that, if and when you do need more care, you can experience it in the place that you have come to know and love."
Part of exploring a Life Care contract as an option includes figuring out how much it will cost. You can use this financial gauge tool to see which option is the best financial fit for you.
Life Care at Canterbury Woods
As the only Life Care Community in the Buffalo, NY, area, Canterbury Woods is dedicated to supporting our residents in their independence, wellness, and joy in living their best lives.
"We all want to live well, and the key to that is having confidence that, no matter what happens, you'll be protected for life and still be able to do the things you love," says Lynda. "Life Care at Canterbury Woods provides that protection and care, no matter what happens to your health or financial status in the future. When you choose us as your senior living community, you become part of our family, and family means everything to us."
Come for a visit to learn more about Life Care at Canterbury Woods, joining the Priority Waitlist, and how you can live your best life with the security of our continuum of care.