Throughout the aging process, many aspects of life change. Whether that's wanting to downsize, prioritizing health needs, yearning to become more active, or simply settling down to enjoy more time with friends and family, the goal is to be as happy and healthy as possible, right?
On the flip side, it's also natural throughout the aging process to become more distanced from, and even lose, family members and friends. Something to keep in mind as you or your loved one ages is the very real possibility of developing loneliness and experiencing the negative side effects that come with it.
At Canterbury Woods Gates Circle, we understand just how important it is for seniors to remain active, both mentally and physically. Let's dive deeper into what causes loneliness, the signs to look for, and the best ways for seniors to prevent loneliness and social isolation.
What causes loneliness, and what are the signs of loneliness in seniors?

While there is not one specific cause of loneliness, many seniors begin to experience it when they face the loss of a partner/spouse, or when they retire and miss the daily social interactions with colleagues. How can you spot in yourself or a loved one if they're experiencing feelings of loneliness? Look for these signs:
Lack of interest in activities that are usually enjoyable
Changes in eating habits, like skipping a meal or having less of an appetite
Suddenly feeling overwhelmed while doing basic daily tasks
Symptoms of cognitive decline, such as forgetfulness, confusion, difficulty concentrating, and difficulty communicating
Decline in physical activity due to fatigue, general disinterest, or difficulty moving
Social withdrawal
Feeling lonely and feeling isolated are nothing to be ashamed of. The more you're aware of the signs of loneliness, the better chance you have to take steps to recover from it.
5 ways to prevent loneliness in seniors

Loneliness and social isolation can greatly impact mental and physical health, and those who experience these feelings have a higher risk of developing depression, anxiety, dementia and other diseases. The CDC shares that "social isolation is associated with about a 50% increased risk of dementia."
To stop loneliness in its tracks, here are five ways seniors can stay connected throughout the aging process:
1. Community involvement
With retirement comes more time. Why not fill it with volunteer opportunities, clubs or classes? Connecting with peers who have similar interests or helping out the local community can help you feel like part of something bigger than yourself. At Canterbury Woods Gates Circle, residents have many options to get involved in the hustle and bustle of downtown Buffalo, as well as in our community. Residents love book club, giving back, and interacting with each other through a variety of activities.
2. Getting active
Fostering friendships is even easier when trying something new or working toward the same goals. Our Wellness Center hosts a variety of group fitness classes, and our campus is perfect for walking, running or biking. Residents love to hit the trails or sweat through a fitness class together because partnership just makes physical activity that much more enjoyable!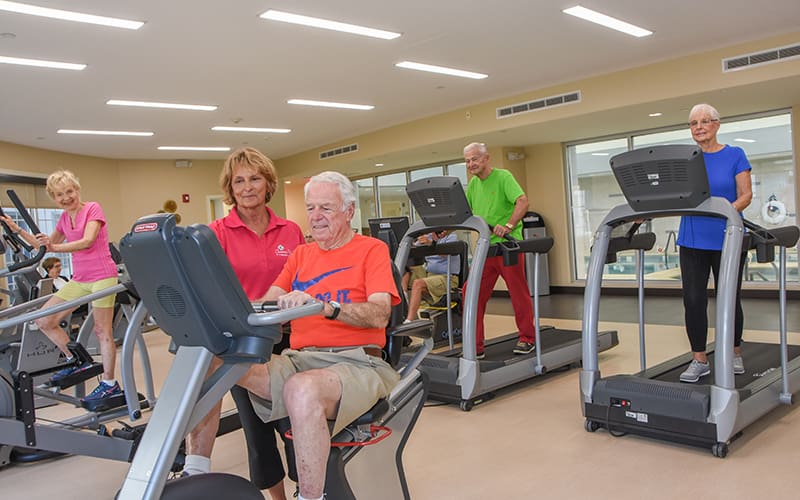 3. Social media
Who says seniors can't use technology? Facebook and Instagram are great ways to find friends old and new, send messages, and share important moments in life. Social media is also a great platform for joining virtual clubs and staying up to date on the latest news and trends.
4. Video calls
While traditional phone calls are still a great way to catch up with family and friends near and far, video calls are much more personal. Why just talk to someone you love when you can see their face, too? Seeing someone on a virtual call can bring feelings of joy, excitement and comfort.
5. Dining with company
At Canterbury Woods Gates Circle, dining is more than eating. It's an experience where residents gather, talk about their days, laugh, and learn. Sharing a meal with others is one of the easiest ways to feel connected and form strong friendships.
Now, for a limited time, it's easier than ever to develop social connections at Canterbury Woods. When you select an apartment and make a deposit by December 31, 2023, you'll save up to $50,000 on your entrance fee. Call ​716-427-6678 to learn more.
Embark on a retirement lifestyle that's never lonely.
Living at Canterbury Woods Gates Circle ensures you or the senior in your life is always surrounded by welcoming neighbors, opportunities for social interaction, and support. Give us a call to learn more about the available apartments at our Gates Circle community and how you or your loved one can live a well-accompanied lifestyle.